July 2, 2011
Charcoal's Late Review of the 3DS: Part 2- The Games
I know that this is even lat­er, but humor me: I've just not been able to put my 3DS down. This lit­tle thing is tru­ly amaz­ing. I cur­rent­ly only own three games for it, but they're var­ied enough for me to give an accu­rate review.
THE GOOD:


Super Street Fight­er IV 3D Edi­tion is a hell of a game with a hell of a name. As you might expect by read­ing the name, it's Super Street Fight­er IV, only on the 3DS and in 3D. How­ev­er, it fits the lit­tle 3DS incred­i­bly well. The but­ton con­trols are very sol­id and respon­sive, and there are also four "but­tons" on the touch screen. These can be mapped to do dif­fer­ent things depend­ing on what "mode" your con­trol set­ting is in. For all the new­com­ers to the series or the 3DS, there is the LITE con­trol scheme, which allows you to map your more dif­fi­cult spe­cial moves, as well as Super and Ultra com­bos, to the touch screen but­tons. This makes the game a lot more acces­si­ble to peo­ple like me, who aren't Com­bo Gods. How­ev­er, there is also the PRO con­trol scheme for those high lev­el play­ers who frown upon press­ing one sin­gle but­ton for the Bloody High Claw. In PRO mode, you can­not map spe­cial moves to the touch screen but­tons, and instead use them for specifics that might not reg­is­ter prop­er­ly at high speeds on the reg­u­lar but­tons, such as your force/charge attack, throws, and dodges (all of which are usu­al­ly acti­vat­ed by press­ing mul­ti­ple but­tons at once). The 3DS con­trol is bril­liant.


Graph­ics on the 3DS are, well, 3D. If you play the game nor­mal­ly, it isn't too bold unless you pull off an attack that changes the cam­era angle. How­ev­er, you can also play in an over-the-shoul­der Dynam­ic View mode, which is absolute­ly gor­geous on the 3DS. Grant­ed, I've seen Super Street Fight­er IV with bet­ter graph­ics on oth­er con­soles, but they weren't in 3D, or hand­held.
Online sup­port for Super Street Fight­er IV is also very good. You can match up with ran­dom online oppo­nents in Arcade mode, or go straight for them in Ver­sus and 3D Ver­sus. There's a skill rank­ing sys­tem that will match you of peo­ple with your skill lev­el, but you'll have to lose a few match­es to get there. One thing that amazes me is sim­ply how good some peo­ple are at Street Fight­er. I've played many a game of Street Fight­er on the 3DS (which, mind you, has­n't been out for too long) where I've got­ten off few­er than three attacks before I was toast. I guess they already have expe­ri­ence from oth­er games in the series, but this is a Star­craft-lev­el skill gap nonethe­less. This isn't a flaw with the game so much as it's a flaw with me, so the best advice I can give you is to prac­tice a lot and stay informed. There are plen­ty of guides online.
Super Street Fight­er IV also has an almost Poke­mon-esque tro­phy-col­lect­ing sys­tem in Street­Pass mode. You have a num­ber of lit­tle fig­urines that you form in to teams to fight. When you pass by some­one else in Street­Pass mode who also owns SSFIV, your fig­urines will fight. You get new fig­urines by spend­ing Fig­ure Points, which are earned by play­ing the game in any mode, in a slot machine that reminds me of Super Smash Bros. Melee. You can also trade fig­urines with oth­ers. I don't know too much about this sec­tion of the game because I've nev­er Street­passed any­one. Sad Face.


Over­all, Super Street Fight­er IV 3D is a very sol­id title, and one of the best the 3DS cur­rent­ly has to offer. If you're plan­ning on get­ting a 3DS, put this game at the top of your shop­ping list.
THE BAD:


Take a look at that cov­er. Take a good, hard look at the name, Splin­ter Cell 3D. What does that mean to you? It's obvi­ous­ly a Splin­ter Cell game. It could be an entire­ly new Splin­ter Cell that just so hap­pens to be in 3D, or it could be a remake of the orig­i­nal Splin­ter Cell for the 3DS. That's what I'm get­ting from the cov­er, the only thing most pur­chasers of this game will see before they buy it. So, which is it? A new game or the orig­i­nal?
Nei­ther. It's Chaos The­o­ry.
When I put this game in, I was fair­ly excit­ed. Chaos The­o­ry was the only oth­er Splin­ter Cell I had ever played, and I thought it was pret­ty good. I would­n't want to go through it again, but it was a decent expe­ri­ence. How­ev­er, when I heard the first mis­sion brief­ing and thought the words sound­ed a bit famil­iar, I start­ed to wor­ry. I looked at IGN, and found that it "told the same sto­ry as Chaos The­o­ry." It does more than tell the same sto­ry. It's an only slight­ly remade port. Now, if they were going to do that, why would they not just call it "Splin­ter Cell: Chaos The­o­ry 3D"? Why delude me into think­ing I'm buy­ing some­thing new or dif­fer­ent? Frankly, it was hard to get over that ini­tial rage, but I man­aged to keep play­ing through a lit­tle ways.


The graph­ics just don't work. It was kind of hard to see what was going on in Chaos The­o­ry, but it's incred­i­bly hard to see what's going on in this title. The only things that are real­ly obvi­ous­ly 3D are the float­ing tips and instruc­tions in the first lev­el. Every­thing else is too dark to see in 3D with­out your night vision gog­gles, and redun­dant­ly 3D with them on. Sam Fish­er han­dles fair­ly well, but there's still a lot of "clunk" with the AI. Real­ly and tru­ly, this game prob­a­bly isn't bad if you've nev­er played Chaos The­o­ry. If you have, just stay far, far away. You'll get even angri­er than you did the first time you played. I'd go more in depth, but this review is taint­ed and biased; I get so mad when­ev­er I try to play this game that I've still not cleared the first lev­el.
THE UGLY AWESOME


Come on. You had to have seen this one com­ing. I'm a hope­less Nin­ten­do fan, and an even big­ger fan of the Leg­end of Zel­da. I'll admit that I used to point out flaws with this par­tic­u­lar title, and name some Zel­da games that I thought may have been bet­ter. But after play­ing again, I retract all of those state­ments. This is eas­i­ly the best Zel­da title ever. It's not far of a stretch to say it's the best game Nin­ten­do has ever made. I might even go so far as to say that The Leg­end of Zel­da: Oca­ri­na of Time is the great­est video game ever. I know I'll prob­a­bly get a lot of flak from non-Nin­ten­do fans for that state­ment, but I can hon­est­ly not think of a bet­ter game I've played. Once again, this review is prob­a­bly a lit­tle biased. I plugged hours upon hours into the orig­i­nal Oca­ri­na of Time when I was a kid, so it holds a lot of mean­ing to me. When I first heard the music on the title screen, I near­ly cried. It's that pow­er­ful of a mem­o­ry. Any­way, before I get car­ried away down mem­o­ry lane and get all weepy on you, let's look at some specifics.


The game isn't too ter­ri­bly dif­fer­ent, but there are some notable upgrades. For one, the graph­ics have obvi­ous­ly been ramped up. I was wor­ried that this would actu­al­ly detract from the nos­tal­gic expe­ri­ence, but it's per­fect. It's just some 3D, shine, and pol­ish on the same mod­els I remem­ber. Unless I'm just improv­ing things with my ears, I think the audio has got­ten a slight upgrade as well. In lieu of the C‑Buttons, the game uti­lizes X and Y, as well as two touch screen but­tons, I and II. It works pret­ty well. The menus have been redone to per­fec­tion. The Item screen is orga­ni­z­able, your gear is eas­i­ly acces­si­ble, and the Oca­ri­na has its own touch screen but­ton and sub­menu. Every­thing works even bet­ter than it used to. You can also aim your view, bow, boomerang, hook­shot, and sling­shot with tilt con­trols. The only prob­lem I've found is that it's actu­al­ly a lit­tle TOO sol­id. The chal­lenges in the shoot­ing gal­leries are quite easy with tilt con­trols.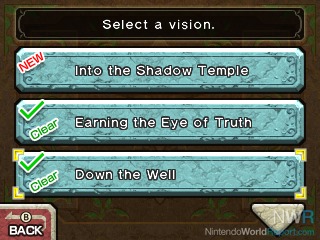 As far as actu­al game­play, the only change I've noticed is the addi­tion of "Sheikah Stones". These look kind of like Gos­sip Stones, only they're larg­er and col­or­ful. The only ones in the game are in the Tem­ple of Time, and out­side Link's house. There's a small hole that can be crawled into to access a num­ber of Visions, which are hints as to puz­zle solu­tions, ene­my weak­ness­es, and item loca­tions. They make the game a tad eas­i­er, which is fine by me. I don't use them, but I know a lot of kids may have to.
To coun­ter­bal­ance the eas­i­ness (as well as the fact that it's almost expect­ed at this point), Mas­ter Quest was includ­ed on the chip. Mas­ter Quest is a sort of "Hard Mode" for Oca­ri­na of Time that first appeared on the 64DD in Japan. It was also includ­ed on the Oca­ri­na of Time bonus disc that came with Wind Wak­er. The game is vir­tu­al­ly the same geo­met­ri­cal­ly, but there are a lot more ene­mies who hit a lot hard­er, and the dun­geons have to be solved in dif­fer­ent orders. Knowl­edge of the orig­i­nal title makes Mas­ter Quest even hard­er. I'm think­ing of doing a "Let's Play" video of Mas­ter Quest once I'm done with the orig­i­nal game.
So, there you have it! The good, the bad, and the ugly weep­ing mess of nos­tal­gic gamer on the 3DS. If there's any­thing more you want to know about these three games, or the 3DS in gen­er­al, drop me a com­ment below!